What is happening in Denton, TX?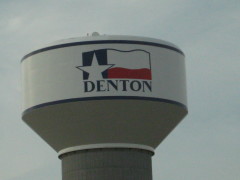 A small group of citizens, led by a University of North Texas philosophy professor, is seeking to push a ban on hydraulic fracturing upon the City of Denton. A ban would first have to be voted on by the City Council before becoming an official ordinance. The Council can approve the measure at it's July 15th meeting or it can vote NO and send the initiative to voters in November. A NO vote would send a strong signal to voters that the proposal is a bad idea for Denton, the citizens of Denton and the area's economy. A ban on drilling in Denton would be the first of its kind in Texas.
Should the City Council approve such an action, it would endanger the delicate balance of surface owners, mineral owners, energy companies and localities cultivated by various Texas institutions, including the Texas Railroad Commission. Energy has afforded much of the wealth enjoyed by the City of Denton itself. By some counts, production in Denton funnels more than $30 million into the city's coffers. Across North Texas, the Barnett Shale provides at least 110,000 jobs and billions in economic activity. A ban on hydraulic fracturing will impact more people than just these petitioners, more even than all of the citizens of Denton. From royalty owners, operators, pipeliners, all the way to down to consumers and the parents who send their kids to school with plastic baggies in their sack lunches, we are all depending on the City Council to take on the hard challenge of leadership, reject this proposal and return to negating table.
Let's work together to find a sensible Texan way to continue to develop energy resources, jobs and the economy here in Denton. Hydraulic fracturing has enabled the U.S. to dramatically reduce its carbon emissions, improving our overall environmental record and putting us on a path to achieve record air quality goals. In Texas, significant measures have been taken to protect public health, safety and local environments through a collaborative process that takes into consideration all interested parties.
Anti-energy activists from outside of Texas are working to push the ban as a way to set a precedent for more proposed bans in other cities and towns across Texas and the entire country. By working to defeat the ban proposal in Denton, we can help secure the future of the state's and nation's economic growth and energy security.